AVG - Dedicated to your online security
The Internet is a constant companion
In our homes, our offices, and umpteen places in between, the Internet is almost always within arm's reach.
Devices, data, people… They're all connected. The Internet has made the jump from our computers, tablets, and phones into our cars, door locks, and even the things we wear. All of this needs protecting now more than ever. That's why we work hard to provide security software and services for families and businesses alike.
Families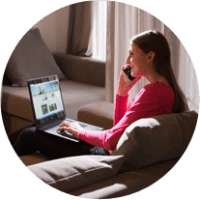 Our goal is a world in which people can enjoy their lives online without worries. We believe everyone has an inalienable right to security and privacy, and we're doing our very best to provide just that.
Businesses
Protect your business Endpoints, email & network from ransomware, spam, phishing and much more
AVG Internet Security
AVG Antivirus
AVG TuneUp
AVG Internet Security
Protect your personal files and your private life

Malware doesn't just affect your PC anymore — it's gotten personal. Through ransomware and webcam spying, hackers can get to your most personal files and photos, or even peep into your home. AVG Internet Security now comes with new Webcam Protection and Ransomware Protection features to secure your personal files — and your private life. Read More
AVG Antivirus
AVG TuneUp